Many of these Indigenous Peoples live and work in forests, or on the surrounding land – and that's really important to FSC. We actively support the rights of Indigenous Peoples and prioritise these rights in relevant policies. In fact, the rights of Indigenous Peoples are prioritised in Principle 3 of the FSC Principles and Criteria (FSC P&C), which requires all FSC-certified forest owners and managers to identify and uphold Indigenous Peoples' rights of land ownership, use of land, and access to resources the land may provide.
The FSC P&C requires FSC-certified businesses to uphold principles of free prior and informed consent (FPIC), that a community has the right to give or withhold its consent to proposals that may affect the lands it customarily owns, occupies or otherwise uses. This position is also supported by the United Nations Declaration on the Rights of Indigenous People, and the International Labour Organization's Convention 169.
Permanent Indigenous Peoples Committee
FSC is committed to working with Indigenous Peoples by upholding their ownership, use and management rights across forests.
This commitment is realized through the advisory support provided by the Permanent Indigenous Peoples Committee (PIPC). Set up in 2013 following a decision of the FSC General Assembly 2011, the PIPC's mission is to make sure that Indigenous voices are heard at the highest levels of FSC decision making. The PIPC consists of representatives of Indigenous Peoples from all regions of the world.
Engaging with Indigenous Peoples
The PIPC advises the Board of Directors on how to enhance the engagement of Indigenous Peoples in FSC-certified forest stewardship. This means reaching out to Indigenous Peoples across platforms. It also means acknowledging the value of Indigenous knowledge, authority, and traditional practices, and incorporating them into forest management.
Ultimately, the PIPC assists the FSC Board in helping the original custodians of the land participate in certified forest stewardship so they can increase the market share and value of their forest businesses in ethical, environmentally sustainable and economically viable ways.
Kim Carstensen, Director General of FSC, underlines the value added to the organization's work by the PIPC: "The Permanent Indigenous Peoples Committee is one of our major platforms to drive greater performance in the FSC system. We look forward to their guidance and engagement as we work to strengthen and grow our reach and positive impact."
In 2020, the PIPC launched an operational arm, the FSC Indigenous Foundation.
Developing ethical and environmental stewardship
Principle 3: Indigenous Peoples' Rights
The Organization shall identify and uphold Indigenous Peoples' legal and customary rights of ownership, use and management of land, territories and resources affected by management activities.
The PIPC, as a permanent mechanism to guide the FSC Board of Directors, was involved in the development and endorsement of the FSC Principles and Criteria for Forest Stewardship (2015). These standards contain the strongest statement on Indigenous rights in certification systems globally.
Forest sector businesses seeking FSC certification are bound to obtain 'Free Prior and Informed Consent' (FPIC) from Indigenous Peoples where the latter have rights relating to the resources in question (Principle 3). They shall also assess and record the presence of High Conservation Values in management units, including "sites and resources fundamental for satisfying the basic necessities of local communities or Indigenous Peoples" (Principle 9).
PIPC's support to FSC
Supporting FSC with strategic advice on Indigenous Peoples' rights in the National Forest Standards for Uruguay and Estonia, including the application of Principle 3 for the Charruas and Seto Indigenous Peoples.

Contributing to updating FSC forest national standards in Sweden and Finland.

Developing an FSC Manual and Indigenous FPIC Manual to be applied to the FSC certification system.
INFOGRAPHICS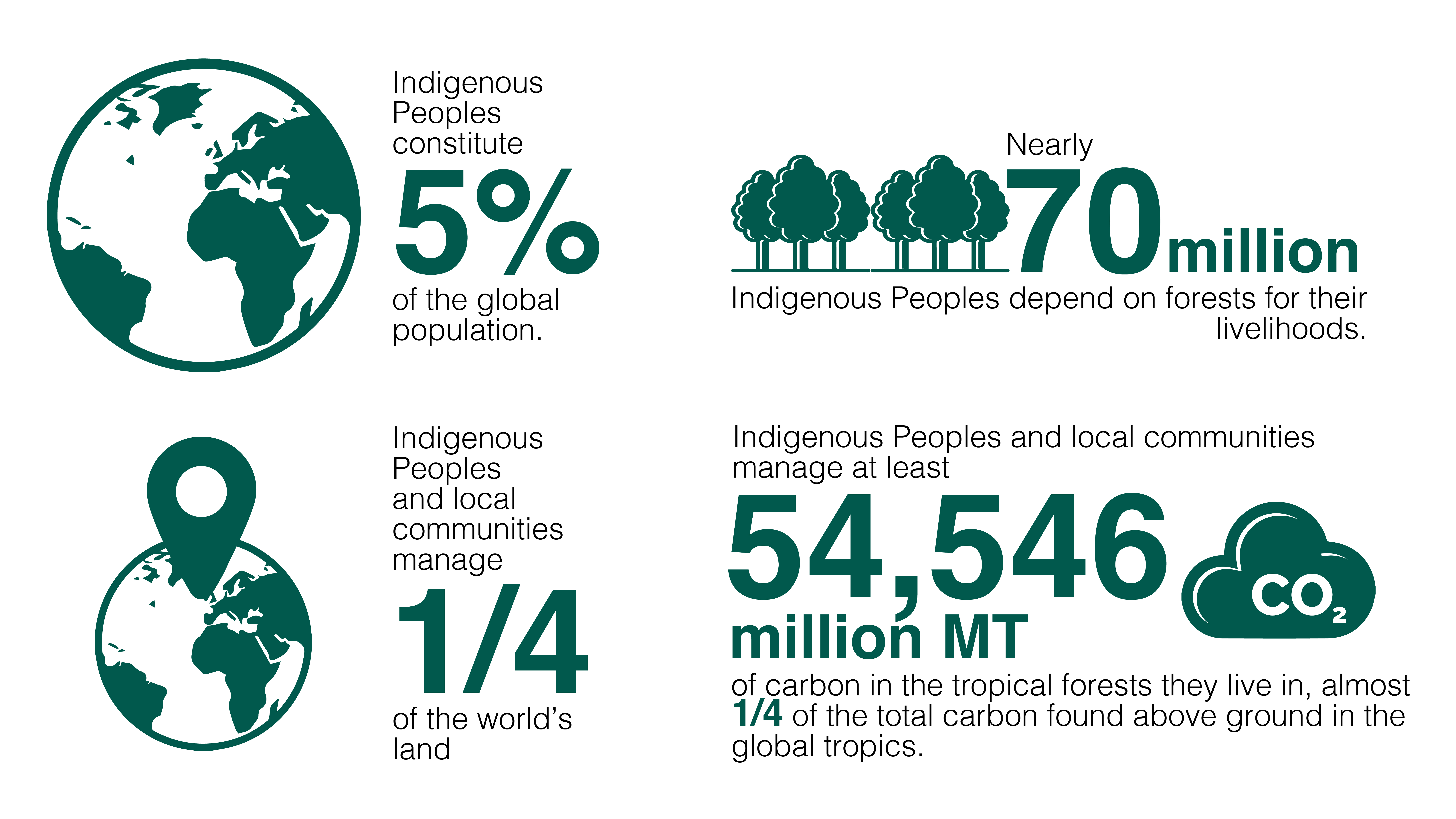 FSC Indigenous Foundation
In 2020, the FSC Indigenous Foundation was set up through collaboration between the Permanent Indigenous Peoples' Committee (PIPC) and FSC. The Foundation is a new global entity within the FSC group that will function as the PIPC's operational arm, working in collaboration with Indigenous Peoples' organizations worldwide.
As it is governed by Indigenous Peoples, the FSC Indigenous Foundation has a unique approach to forest stewardship driven by the values, principles, culture, traditions and rights of Indigenous Peoples. It advocates holistic, nature-based Indigenous self-development that draws on traditional knowledge and practices within the framework of customary rights and is based on sustainable resource management.
The new entity will build on FSC's extensive and longstanding network of relationships with businesses, non-profits and foundations committed to managing forests responsibly. Partnerships will be forged with the private sector, safeguarded through voluntary certification systems and Free, Prior and Informed Consent (FPIC) protocols.
The Foundation's primary goal is to co-create Indigenous forest-based solutions through the inclusion and recognition of Indigenous knowledge, authority, and traditional practices. It will work directly with Indigenous Peoples' organizations to support them in developing and implementing long-term solutions to enhance the benefits from their forests and territories by linking to the FSC system and market, climate and rights-based approaches.  
As Managing Director Francisco Souza explains, "The FSC Indigenous Foundation works to better connect Indigenous Peoples worldwide to the FSC certification system by engaging them, improving their knowledge and capacities, and incorporating their values, practices and holistic resource management practices into the FSC system. We hope to create Indigenous business models by safeguarding their rights, developing tools to improve their forest management, strengthening their economies, and also increasing their market-share in certified forest products worldwide."
The mission of the FSC Indigenous Foundation is to unlock the enabling environment to secure Indigenous Peoples' rights, and value and promote indigenous nature-based solutions within the quarter of the world's land that is managed by Indigenous Peoples.  
The Foundation's vision is that the global value of Indigenous Peoples and their rights, livelihoods, ecosystem services, natural capital and territories are recognized and incorporated into forest governance, climate change governance and market systems.
The FSC Indigenous Foundation is headquartered in Panama.
Podcast | Episode 17 of Forest for the Future:
A FSC relevant for communities, smallholders and Indigenous Peoples with Vera Santos, New Approaches Program Director and Francisco Souza, Managing Director, FSC Indigenous Foundation
IPARD – Indigenous Peoples Alliance for Rights and Development
IPARD is a five-year program implemented by the FSC Indigenous Foundation with support from FSC, the private sector, and the United States Agency for International Development (USAID).
IPARD aims to enable Indigenous Peoples globally to strengthen their capacities, so they can manage and develop their communities based on their priorities, traditional knowledge, natural resource management, and respect for their rights. IPARD is committed to support and work with Indigenous Peoples in a collaborative spirit, based on national and international laws.
IPARD's vision will be achieved through three systematic and interlinked objectives:  
Organize and convene a Capacity Development Program for Indigenous Peoples' organizations and stakeholders, such as government entities and the private sector

 

Foster an enabling and authorizing environment for Indigenous Peoples' effective participation and joint decision-making in matters affecting them

Promote business opportunities and partnerships for Indigenous Peoples' sustainable development based on innovative economic models.

 
The Program is driven by multi-sector and Indigenous Peoples partnerships to build innovative ways to implement strategies on the ground in an integrated way with a country-by-country approach, based on the long-term vision of Indigenous Peoples themselves and their national governments.
Additionally, IPARD will be led, managed and implemented by Indigenous Peoples' organizations and networks in partnership with their national governments and civil societies. This will ensure the achievement of long-term impacts on the ground for Indigenous communities worldwide.
FSC Indigenous Foundation Council
Anders Blom
Chairperson of the FSC-IF Council, Foundation Protect Sápmi  
Hindou Oumarou Ibrahim
Coordinator of the Association of Peul Women and Autochthonous Peoples of Chad (AFPAT), Indigenous Peoples of Africa Coordinating Committee (IPACC) 
Gregorio Mirabal
Vice-chair Coordinator of the Indigenous Organizations of the Amazon Basin (COICA)​
Nicholas Mujah Ason
Secretary General of the Sarawak Dayak Iban Association and Indigenous Association of Iban Ethnic of Sarawak State, Borneo Island, Malaysia ​
Kim Carstensen
Director General of the Forest Stewardship Council (FSC) ​
FSC Indigenous Foundation Senior Management Team
Francisco Souza
Managing Director, FSC Indigenous Foundation
Dan Sosa
Director of Finance and Administration 
Interview with Head of FSC Indigenous Foundation
Francisco Souza, Director of the FSC Indigenous Foundation, shares his vision and expectations regarding this new body that will actively contribute to increase the level of engagement and communication between Indigenous Peoples, the FSC system and partner organizations. 
FSC Indigenous Foundation Launches Global Development Alliance for Indigenous Peoples
The Indigenous Peoples Alliance for Rights and Development aims to create solutions to empower world's Indigenous Peoples with long-term capacity to manage, develop, and govern their territories based on the principles of self-determined development, traditional practices, environmental conservation, and respect to their customary rights.
How the Indigenous Baaka of the Congo are saving forests
Brazzavile, Congo: Companies committed to sustainable forest management in the Congo are doing their part to advance the life of Indigenous Peoples, like the Baaka, with dignity. In return, the Baaka are committed to working with companies to meet the region's timber needs while protecting their ancestral forest home.
FSC Canada Partners with Wahkohtowin Development GP to Support Indigenous Peoples' Rights
FSC Canada has developed a partnership with Wahkohtowin Development GP, an indigenous-owned company acting as an implementation body for First Nations' economic development in Canada. The two organizations recently received funds from the Canadian Ministry of Environment and Climate Change. The funding will be used to assist with effectively implementing FSC's new requirements to support Indigenous Peoples' rights.
Support our mission
During this unprecedented and difficult time, many foresters are continuing to work in FSC certified forests. In many rural areas, these jobs provide vital stimulus to local economies and communities, and are considered "essential services." Please make a donation to support community foresters and all the people working hard to manage forests during the COVID-19 crisis. Donations collected will be bundled and directed to communities working in forests around the world. FSC is working with organizations representing foresters and your support will ensure that forests continue to be managed in responsible ways during a time of global crisis.
Get involved
Do you have a story about how FSC certification brought about positive change to your business, government or community? We'd love to hear from you.