BONN, 25 November 2021 – The jury of FSC Furniture Awards, created by the Forest Stewardship Council to reward FSC-certified companies in the indoor and outdoor furniture sector has announced the winners.
The awards ceremony took place online and the winners in six award categories (Home-living, Home-office, Office furniture, Public spaces furniture, Outdoor furniture for home, Outdoor furniture for public spaces) and five special awards (CSR, Communication, Green, Labeling and Small Business) were announced by a jury composed by representatives of FSC national offices from the 11 competing countries (Austria, Bosnia and Herzegovina, Croatia, Czech Republic, Germany, Italy, Poland, San Marino, Serbia, Slovenia, United Kingdom). The only category not assigned was the one for Retail furniture - a special mention was created instead.
The ceremony event was preceded by a round table on the use of wood from certified sources, which was attended by representatives of FSC International, international NGOs, forest owners, retailers and journalists, and moderated by designer and BBC star Oliver Heath.
The first two editions of the awards in 2019 and 2020, which covered only Italy, awarded twenty companies operating in wood-furniture sector. The first-ever European edition in 2021, follows the  positive trend of an increasing number of furniture businesses becoming FSC-certified: as of November 2021, one fourth of over 20 thousand companies of the FSC-certified European supply chains belong to indoor and outdoor wood  furniture sector.
Countries with the highest number of FSC-certified companies producing furniture are Poland (861), United Kingdom (746) and Italy (602).(1) These numbers go hand in hand with a growing demand for products of sustainable origin. Indeed, new research conducted by Globescan on behalf of FSC International reports that 84% of consumers expect companies to ensure that the wood/paper products they sell are not contributing to deforestation (2). This new report is part of FSC's efforts to understand how forests, people and markets are responding to global changes.
"FSC  works in close collaboration with furniture manufacturers, brands and retailers to help them develop their supply chains, increase awareness about  sustainable forestry and its benefits, and communicate their commitment to FSC certification" says Jeremy Harrison, Chief Markets Officer at FSC International "The positive results of these collaborations  are confirmed in the research findings from Globescan".
"In the climate change era we must provide viable solutions and positive examples of how forest conservation, communities and markets can coexist. The FSC Furniture Awards promotes best practices, rewarding the achievements of companies that have decided to share their path towards sustainability with FSC" says Alexia Schrott, FSC Italy's Marketing Manager and coordinator of the project.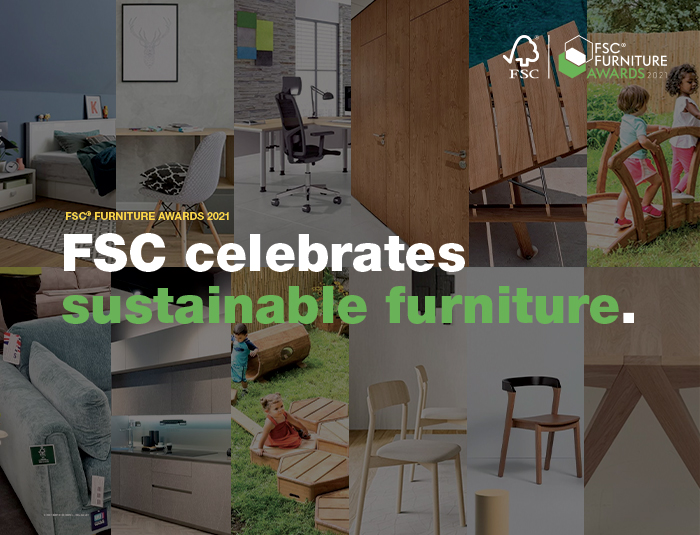 2021's FSC sustainable furniture champions
Below is the list of winners for each category of this year's awards.
Home-living
Composad s.r.l, based in Viadana (Italy), won the category awards with Velata bed systems.
Home-office
Polish company Melaco Sp.z o.o from Nowa Sól (Poland), specialized in components for furniture design.
Office furniture
Hammerbacher GmbH from Neumarkt (Germany), whose furniture for small and large workspaces are all FSC-certified.
Public space furniture
Schäfer Trennwandsysteme GmbH, based in Horhausen (Germany), is a manufacturer of WC partitions, changing cubicles and checkroom lockers for public spaces.
Outdoor furniture for home
Roda s.r.l from Gavirate (Italy), with its wooden Orson sun loungers.
Outdoor furniture for public spaces
British company Community Products (UK) LTD, based in East Sussex (UK), for its environmentally-friendly toddlers. This company also got the special Green award for its sustainability policy.
Special award for CSR policies
Buoyant Upholstery LTD, based in Lancashire (UK).
Special award for communication
Stosa s.p.a (Italy) was recognized for its commitment to promoting FSC values.
Special award for the best FSC labeling
Calligaris s.p.a from Udine (Italy) for labeling its iconic design products.
Award for small businesses
Cantarutti s.r.l, based in Udine (Italy).
Special mention
Era Grupa d.o.o., from Vinkovci (Croatia), for its dedication to the procurement of FSC-certified inputs.
More information on prizes and motivations can be found on the official website www.fscfurnitureawards.org
1. Source: FSC International Database, 2 November 2021.
2. Source: FSC Global Consumer Research 2021. Global sample: 12,000. Consumers were surveyed in Canada, Chile, Colombia, China, Germany, India, Italy, Mexico, Poland, South Africa, South Korea, Sweden, Turkey, UK and USA.