Co-Creating Collective Benefits
Through our work with small-scale and community forests we have learned that we need to embrace complexity and find ways for producing enabling market conditions. A proven way of finding mutually beneficial, or collective, benefits is the collective impact model. Collective impact is a proven model, initially devised by the Kennedy School at Harvard and published by Stanford Social Innovation Review in 2011. It proposes the joint commitment of a group of actors from different sectors to a common agenda for solving a specific problem with relevant social dimensions. In order for the commitment to be successfully achieved, five criteria must be secured:

1. Common agenda: All participating organizations (including government agencies, organizations, non-profits, community members, etc.) must have a shared vision for change that includes a common understanding of the problem and a joint approach to solving it through a set of agreed actions;

2. Mutually reinforcing activities: There must be engagement and participation of a diverse set of stakeholders, typically in multiple sectors, coordinating a set of differentiated activities through a mutually reinforcing plan of action;

3. Shared measurement system: There must be agreement on the way success will be measured and reported, with a set of key indicators by all participating organizations;

4. Continuous communications: There must be frequent communications over a long period of time among key players within and between organizations, to build trust and encourage ongoing learning and adaptation; and

5. Backbone organization: Ongoing support must be provided by an independent staff.

So, rather than focus efforts on local value chain strategies, the adoption of collective impact would seek a process grounded in a systemic approach.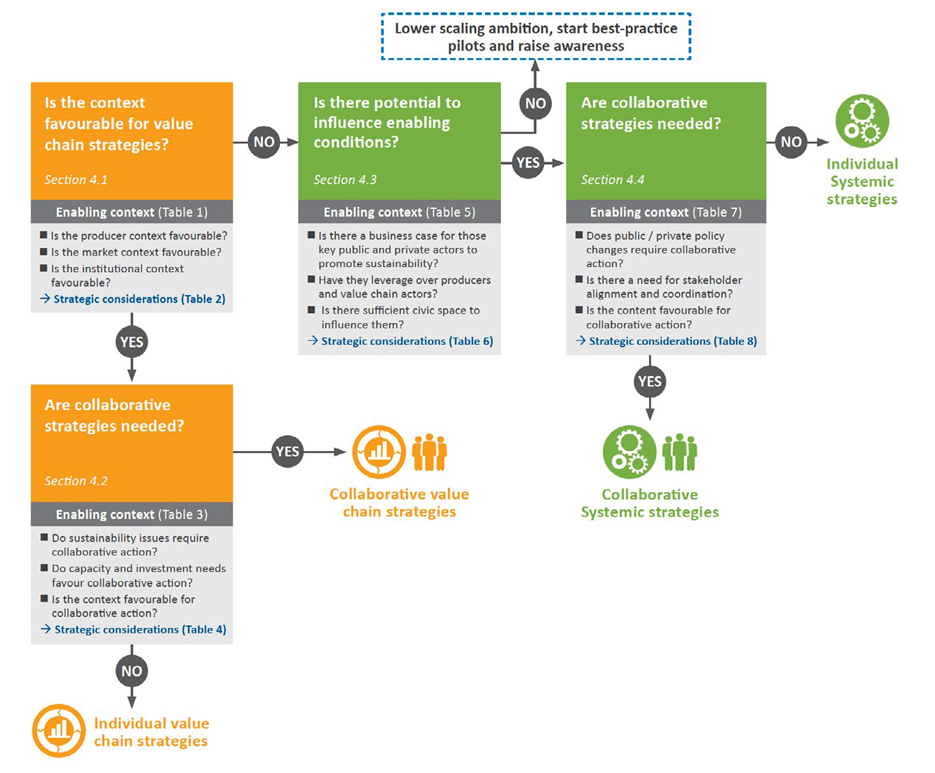 Value Chain Approach for Rubber Latex
Unlike timber, it is hard to directly trace the source of natural rubber latex coming from different forests. FSC can certify rubber plantations. But the industry includes an unknown number of people acting as dealers and brokers who collect the latex from various forest owners before passing it on to manufacturers and processing facilities in an uncontrolled manner. This makes it hard to achieve a clean due diligence system required by FSC. However, the growing market for sustainable products, including the international tyre manufacturing industry, is increasingly asking for certified products.